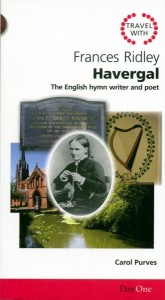 TRAVEL WITH FRANCES RIDLEY HAVERGAL
by Carol Purves
ISBN 978 1 84625 206 8
From the time of unaccompanied singing on the Mount of Olives to modern day 'worship bands' singing has been important to Christian worship. The hymns of Frances have become part of this tradition. It is possible to re-dedicate our lives with 'Take my life and let it be, consecrated Lord to Thee", march triumphantly with 'Who is on the Lord's side, who will face the foe?' or rest in God with 'Like a river glorious. flows God's perfect peace'.
Frances was the daughter of a vicar in Worcestershire, but died at a prematurely young age in South Wales.
Interesting facts – 
Did you know Frances was the youngest of six children. Not having had children herself, she nevertheless was loved by all her nephews and nieces?
Did you know that this prolific hymn-writer wrote a number of books, dozens of hymns (some of which are still sung today) and was a great letter-writer?
Slip this pocket-shaped book into your pocket It will explain all these interesting facts as you visit her homes, tour her county and hum her hymns as you go. The numerous pictures in the books will make her adventures come to life.
Purchase this book from: DayOne.co.uk | Amazon.co.uk